On-chain data shows activity from the Shiba Inu whales has been high recently. Here's what this may mean for the meme coin's price.
Shiba Inu Whale Transaction Count Has Spiked Recently
According to data from the on-chain analytics firm Santiment, not just SHIB, but Cardano (ADA) and Hex (HEX) have also seen high whale activity in the last few days. The relevant indicator here is the "whale transaction count," which measures the total number of transfers taking place on the network that involve a movement of coins worth at least $100,000.
When the value of this metric is high for any cryptocurrency, it means whales of that particular coin are making a large number of transfers right now. Such a trend shows these humongous holders have an active interest in trading the asset currently.
Since the transactions belonging to the whales are generally quite large in scale, enough of them together may cause visible ripples on the market. Because of this, a high whale transaction count can signal that volatility may be imminent for the coin in question.
Now, here is a chart that shows the trend in this indicator for Shiba Inu, Cardano, and Hex over the last few months: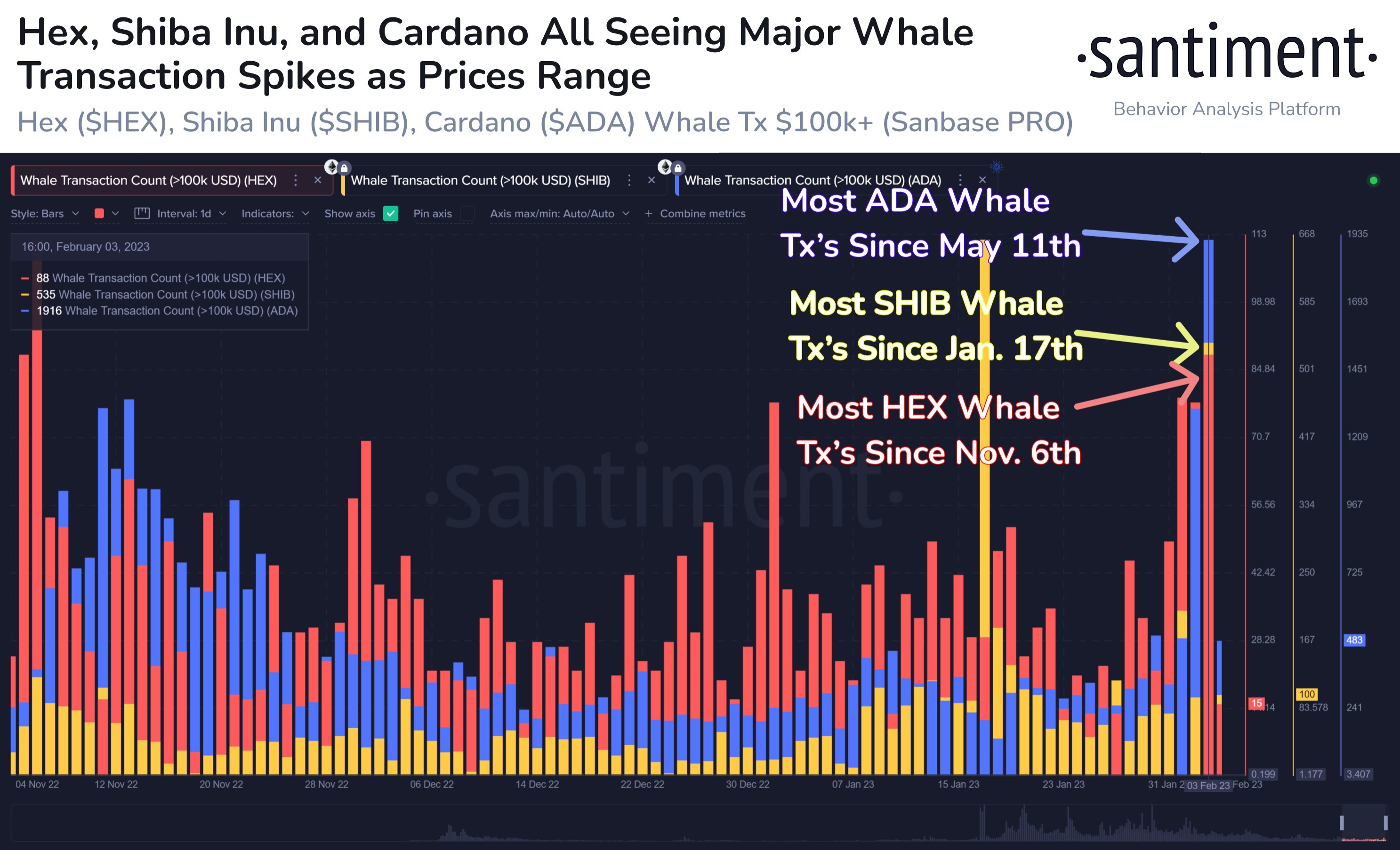 The value of the metric seems to have been high for all these assets in recent days | Source: Santiment on Twitter
As shown in the above graph, the Shiba Inu whale transaction count has shot up recently and has hit the highest value since the 17th of January. This means that SHIB whales have been making a large number of transfers in the last few days.
Cardano and Hex also seem to have registered high values of the indicator recently, and in their case, the spikes have led to the highest values since the 11th of May and the 6th of November, respectively. This suggests that whales have also been quite active in trading these altcoins.
As mentioned before, markets with elevated activity from these humongous holders have usually gone on to observe significant volatility in the near future. Since SHIB, ADA, and HEX are all observing such an elevation right now, it's possible that they may also see large price moves soon.
However, it's hard to say for sure which direction such volatility might take the prices of these cryptocurrencies. While elevated activity can be a sign of buying from the whales (naturally a bullish signal), the same trend is also seen when these investors are selling instead (which could be bearish for the price).
Since the 17th of last month, when Shiba Inu previously saw high activity from this cohort, the meme coin has gone on to see an overall upwards climb that is still continuing. This may imply that the whales actively bought the asset back then.
If these investors are displaying a similar trend now as well, then SHIB could feel a positive impact from it this time also. However, it only remains to be seen whether the whales are actually buying or selling right now.
SHIB Price
At the time of writing, Shiba Inu is trading around $0.00001460, up 26% in the last week.

Looks like SHIB has surged | Source: SHIBUSD on TradingView
Featured image from Thomas Lipke on Unsplash.com, charts from TradingView.com, Santiment.net

#Shiba #Inu #Whale #Activity #Spikes #Bullish
Shiba Inu Whale Activity Spikes, Is This Bullish?